Gross rents for microliving / temporary accommodation
The increasing flexibility of the labour market, as well as the internationalization of education and universities, improve the attractiveness of micro living and student housing as an asset class in Germany.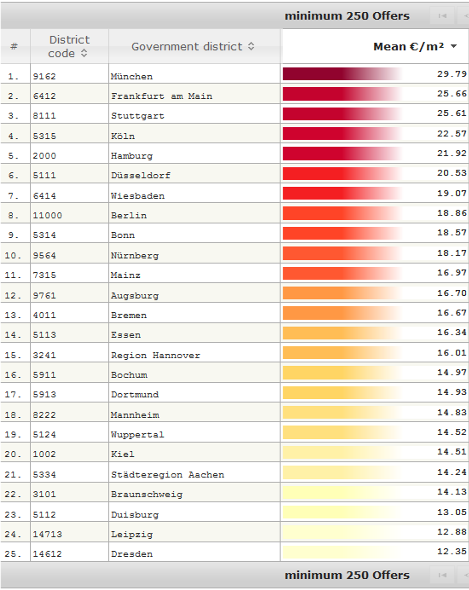 With this article, we want to give you a rental rate overview of selected German markets within this growing asset class (the class with a lack of rental rate and cash-flow information): We analysed the gross rents for temporary accommodation offers for 1-room flats, listed in 2016. The range varies from nearly 30 €/m² in Munich, 25 €/m² in Frankfurt and Stuttgart to only 12 €/m² in Dresden. The analysed advertisements are furnished, for temporary use and the rates include ancillary costs.
Our real estate market database provides an up-to-date and detailed market overview for Germany. It facilitates portfolio analyses, location analyses as well as cross-site market analyses. Our high quality data are a solid decision support for transaction processes, valuations and lettings. Our cloud-based information system, the Analyst, provides data and evaluations in real time: Consultants, brokers and developers use the Analyst as well as investors, research companies, asset managers or housing companies.
Take advantage of our market database and our information system to generate your individual market insight. For foreign investors who are planning to invest in Germany we also offer English versions of our tools. If you like to take the opportunity of a free trial, do not hesitate to contact us. We would be happy to meet you at Mipim 2017.
P.S. Our complete homepage will be available in English soon.