The VALUE Marketdata REST-API is a machine-readable interface to connect your applications with our real estate market database.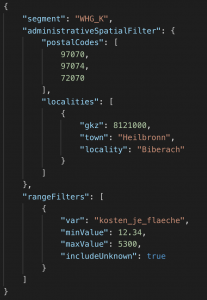 The JSON-based API is mirroring all functions of the VALUE Analyst software. This means that all filter options (location-, market- and property selection) are available as services and can be integrated directly into your application.
For analyzing the results of your queries, it provides numerous functions (time series, mean values and distributions) as REST-endpoints. This ensures an efficient integration capability with high flexibility.
Spatial query options
Like the Analyst website, our API has query options ranging from addresses/coordinates, city districts and postal codes to the real estate market (counties, nuts, communities) or nationwide real estate portfolios.
Sub-market query options
Our segments provide efficient pre-filter options and can be used as direct access to the respective real estate sub-market, thus eliminating the need for numerous filter conditions. The application therefore only has to define the corresponding object criteria for comparables (e.g. area or year of construction).
Real estate market statistics
For each query you get access to the filtered offers table, as well as various statistics with all essential parameters of a market- or location analysis.
Number of cases
Mean values (mean value, median, weighted mean)
Percentiles/distribution (1-100)
Time series (prices, prices and rents per m², purchase price factor and gross initial yield)
All data and values are made available to you as JSON.
Documentation and Workflow Management

Our API is built and documented using the well known Swagger open source library. Your developers will love it!
To support quick learning our API, any user or developer can visually build queries in our Market Analyst and translate it to API code with a click. That way managers can prototype client REST queries and pass it to their developers.
If you have a VALUE Market Data license with API/REST access, visit the Swagger documentation here.
Example application: Retrieve real estate market data from R
The following script shows how real estate market statistics can be retrieved directly from R. The following example shows a query to get the median prices for Berlin and Hamburg. Depending on the user input and the selected endpoints, all conceivable parameters can be retrieved.
You can download the R-code here. Have fun trying it out.